Tonight's fixture between Charlton and Millwall will see both clubs come together to highlight the dangers of street violence and celebrate how they have managed to positively change young people's lives in their respective communities.
Charlton Athletic Community Trust's (CACT's) Street Violence Ruins Lives (SVRL) project is this year's winner of the EFL's Championship Divisional Project of the Year. Through the Connect project in partnership with a range of key stakeholders, CACT's recent SVRL work has had a significant impact on more than 2,000 young people, with more than 670 supported by being introduced to sport and physical activity and 351 involved in one-to-one mentoring.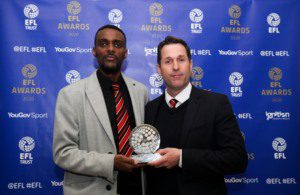 Tonight, at Charlton Athletic's game against Millwall, the award-winning programme will be celebrated for its work. The club and CACT have celebrated SVRL Day since 2008, when Charlton and Millwall came together for the first time following the deaths of Charlton fan Rob Knox and Millwall fan Jimmy Mizen. Sponsor logos were removed for the game to make way for the SVRL campaign logo, and players have worn t-shirts promoting the campaign on several occasions subsequently. CACT has worked closely with the Rob Knox Foundation and For Jimmy alongside Rob's parents Sally and Colin and Jimmy's parents Margaret and Barry.
This season, Charlton defender Deji Oshilaja visited CACT's Premier League Kicks programme, which sees CACT run free diversionary football sessions for 11 to 19-year-olds. As a child, Deji attended Kicks sessions run by Millwall Community Trust himself.
Speaking about the SVRL campaign, Deji said:

"I think for someone like me it's very important. To show that the club have done that, it's great from them.As someone that has come from an area where obviously there's a lot of gang culture, a lot of street violence where I grew up, I think it's top from the club as well, sticking that initiative in and trying to better people's lives."