"Everyone should come together in times of need and work together as a team." says Katie McDougall who has been volunteering with Preston North End 'Helping Hampers' Campaign, she continues, "As a young person, I've got lots of time on my hands and if I can volunteer my services, I will. If I can help others, put a smile on their face and get them through this hardship, then obviously it makes me feel good as well!"
Katie, aged 18, joined Preston North End Community and Education Trust (PNECET) to volunteer for their 'Helping Hampers' Campaign. The campaign supports the most vulnerable people in the community of Preston with hampers of essential food and provisions.  So far she has helped provide 70 vulnerable household with essential provision to help get them through this difficult period.
Katie first came in to contact PNECET when she did NCS in 2019 and that is how she found out about the opportunity to volunteer for the 'Helping Hampers' campaign. NCS is a youth programme designed for 16-17 year olds that runs every summer and autumn. The experience is all about empowering young people, to help develop their skills that will set them up for life after school. On NCS, participants live away from home and get a taste of independence as well as positively impacting their local community through a social action project.
Katie said: "I heard about this [PNECET Helping Hampers] because I've taken part in NCS. My family are quite involved with Preston [North End], follow them on Facebook, and saw that the Community and Education Trust are doing this really good scheme making hampers for vulnerable people."
Katie is a student at Newman College and should have been doing her exams. Instead, she's at home still studying but with plenty of time on her hands and so volunteered a few hours each week to help put together over 70 hampers together for vulnerable people within Preston.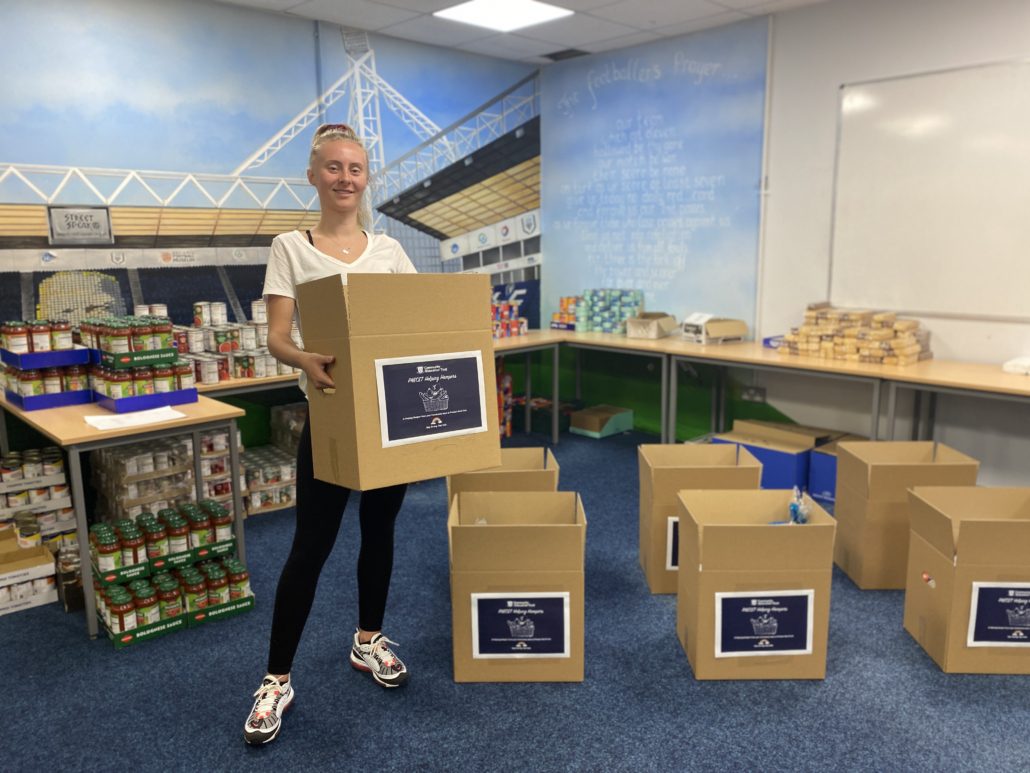 Christine Latus is Preston North End season ticket holder and was a recipient of a PNECET Helping Hamper, she said;
"It's absolutely wonderful, it's a real surprise – I didn't expect anything like this at all, but it's really helpful and it's lovely to think that the club are thinking about the supporters in these strange times. We obviously can't go to matches or anything, so it's really, really kind, I really appreciate it."
NCS have recently launched 'Keep Doing Good' to help young people take an active role in the recovery of the country after COVID-19.
As part of Katie's time on NCS she delivered a social action project that had a positive impact on the community. After her volunteering with PNECET Katie is keen to do more volunteering to support the community.
Katie said "It's been great to help out and support the local community of Preston. I want to continue doing that and look forward to volunteering more in the community. I would encourage other young people my age to take up volunteering, it's really rewarding and a good use of time"
Preston North End Community and Education Trust Community Partnerships Manager Rebecca Robertson said: "Katie has been a valued volunteer on our PNECET Helping Hampers campaign. She has spent time in our offices at Deepdale helping with making the boxes for our hampers and packing them with food, toiletries and other engaging materials for the vulnerable members of our community.
"It has been great to see one of our NCS graduates getting involved with our community initiatives during this difficult time and we're looking forward to working with Katie more on the NCS Keep Doing Good project, as we're sure she can continue making a real impact in our community!"
If you are 15-17 and want to support your local community volunteering then sign up to 'Keep Doing Good' and help get your local community back on its feet after.
https://www.efltrust.com/wp-content/uploads/2020/07/IMG_1157-scaled.jpg
1920
2560
EFL Trust
https://www.efltrust.com/wp-content/uploads/2016/06/efltrustlogo.png
EFL Trust
2020-07-03 12:38:46
2020-07-03 12:38:47
18 Year Old Katie Helps Support 70 Vulnerable Households