In April, thousands of young people across EFL communities gave up their time to make a positive impact in their area. Young people tackled issues such as homelessness, loneliness, the environment, cultural divides and mental health whilst taking part in NCS Action Day, a national movement organised by National Citizen Service (NCS).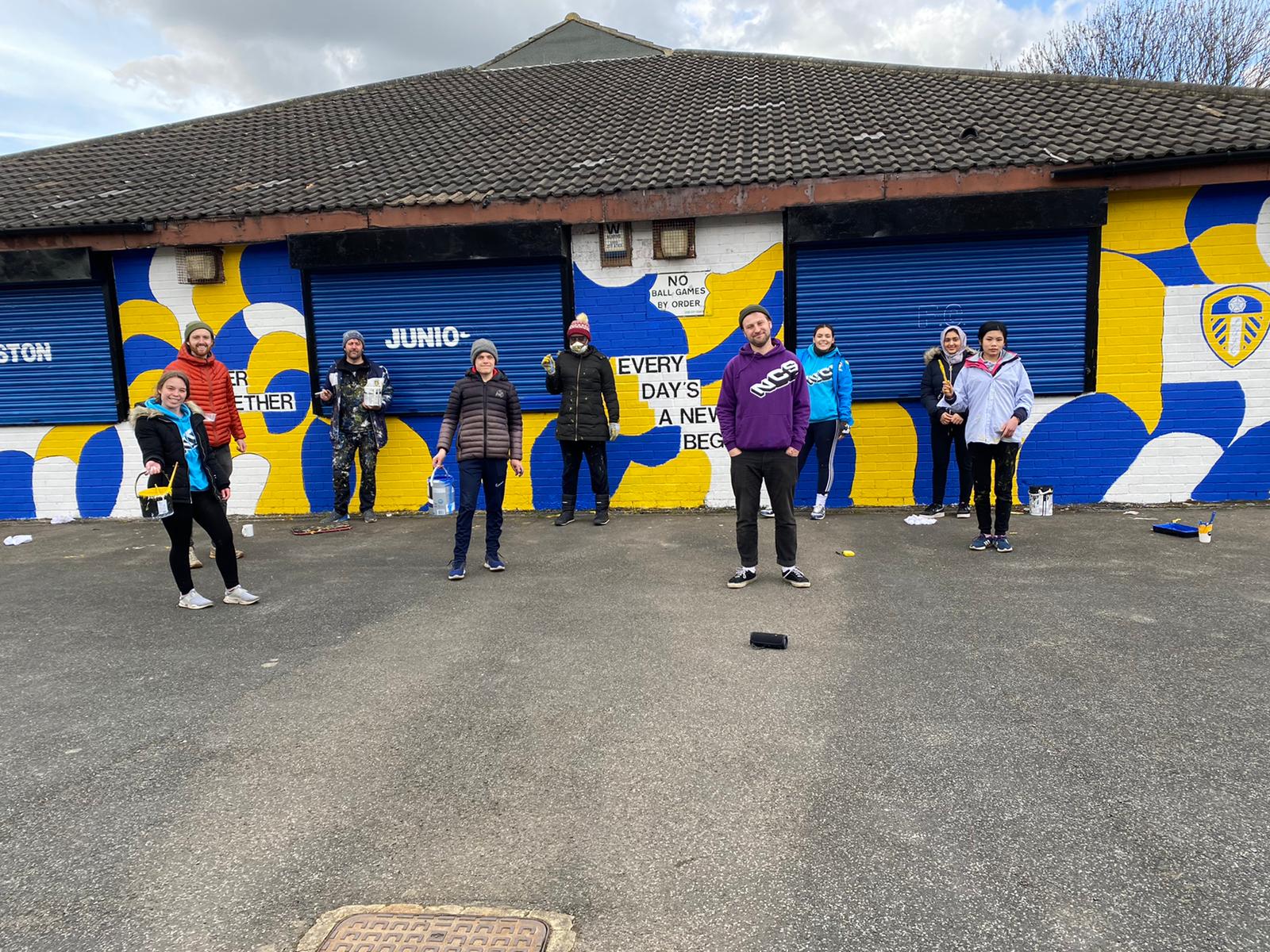 One such project involved 9 young people from Leeds. They made a mural by using 'Legacy Fund' of £660 provided by the EFL Trust to design and create a mural which brightened up Beeston Junior Football Club's home ground. The group of young people are all part of the NCS Changemakers Group with Leeds United, Yorkshire Cricket Club and Leeds Rhinos.
As a result of the hard work by Leeds Changemakers, Beeston Juniors and the community can enjoy the new mural brightening up everyone's day. The colours are attractive and represent Beeston Juniors Football Club and Leeds United Football Club.
Beeston Juniors club house will now be used for NCS Changemaker meetings in which Leeds NCS providers will have access to. Other NCS activities will be based here which will set a great example for future NCS participants looking for inspiration when planning their social action projects. This means even more good work will come out of the project for years to come!
The mural, situated in the middle of a community, has already turned heads with many people complimenting the work done by the young people. Even whilst it was being painted, members of the public made comments such as "It's looking great" and "Wow it looks so colourful!"
On the back of such a positive response, the group will now look to work with Beeston Juniors again to create other murals at the ground to ensure consistency and create an even bigger impact.
The project, described as 'therapeutic' by one of the young people involved said:
"It has been nice to get away from revision and do something in the community. It's felt really therapeutic"
Another young person from the team, Jakaila, said:
"I feel proud that I have been able to do this and inspire other people in the community to take part in projects"
Burley Banksy, a local street artist who worked with the Changemakers to design and paint the mural said:
"It's been nice to transform a building that was looking a bit tired into something bright and colourful for the community. It's given the community something to celebrate."
This is a brilliant example of a social action project designed and delivered by young people that will have a lasting legacy for years to come! To find out more about NCS, visit wearencs.com.
https://www.efltrust.com/wp-content/uploads/2021/04/WhatsApp-Image-2021-04-12-at-11.25.19-1-e1619712158848.jpeg
804
1600
Andrew Rudkin
https://www.efltrust.com/wp-content/uploads/2016/06/efltrustlogo.png
Andrew Rudkin
2021-04-29 17:05:50
2021-04-29 17:05:50
Young People Leave Lasting Legacy in Leeds