Thousands of Year 6 pupils across the North West of England, making the transition into secondary school, will benefit from a mental health programme involving several EFL Club Community Organisations (CCOs).
Since 2022, the EFL Trust and four CCOs have supported dozens of schools and hundreds of pupils across Lancashire and South Cumbria via a pilot project called Headstart, thanks to funding from Lancashire Teaching Hospitals Charity after successfully applying for an NHS Charities Together Grant.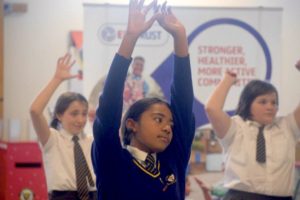 The EFL charitable arm is delighted to announce, during Mental Health Awareness Week (15th – 21st May), the programme – which has supported almost a thousand pupils since it began – will be delivered by a further seven charities.
The CCOs will work in schools, providing one to one or group support, in either a classroom environment or delivering sessions, like yoga and mindfulness.
Fleetwood Town Community Trust, Preston North End Community and Education Trust, Morecambe FC Community Sports and Accrington Stanley Community Trust each have a Mental Health Transformation Officer, all of whom aim to reduce strain on the NHS by targeting those children currently accessing or are at risk of needing to access children's mental health services.
Blackpool FC Community Trust, Blackburn Rovers Community Trust and Burnley FC In The Community have joined the Lancashire cohort of CCOs delivering the programme.
In addition, Bolton Wanderers In The Community, Foundation 92, Rochdale AFC Community Trust and Wigan Athletic Community Trust have come on board thanks to funding and support from Greater Manchester Integrated Care Partnership, GreaterSport and local authorities; Trafford Council, Wigan Council and Bolton Council.
In 2020, one in six (16.0%) children aged 5 to 16 years were identified as having a probable mental disorder, increasing from one in nine (10.8%) in 2017.
Adrian Bradley, Head of Health & Wellbeing at the EFL Trust said:
"Our Club Community Organisations are well connected within schools across their communities, and we've seen some wonderful and impactful examples during our pilot year of delivering the programme.

"We're delighted that we've received further funding for more Club Community Organisations to deliver this programme across Lancashire and Greater Manchester, and reach and support as many children as possible, making that milestone transition in their lives from primary to secondary school."
Caption: ITV Football visited Larkholme Primary School in Fleetwood to witness EFL Trust Headstart Programme delivered Fleetwood Town Community Trust.
https://www.efltrust.com/wp-content/uploads/2023/05/IMG_1718.jpg
853
1280
Andrew Rudkin
https://www.efltrust.com/wp-content/uploads/2016/06/efltrustlogo.png
Andrew Rudkin
2023-05-15 09:54:44
2023-05-15 10:19:48
Headstart makes expansive headway in North West