A group of young NCS Changemakers with Yorkshire Cricket Foundation (YCF) are calling for cricket clubs across the Yorkshire region to embrace a new cricket kit recycling scheme, as part of the 'Together for Sport' initiative along with Zero Waste Leeds.
The scheme involves donating, reusing and recycling cricket kit, to help support accessibility within the game as well as improving local environmental sustainability.
The call to action follows a successful star studded 'Cric-Kit' launch by the two organisations in Leeds, last month. More than 350 people from the local community attended the special event, including 50 Yorkshire Cricket College Changemakers as part of YCF's NCS programme.
The Cric-Kit scheme aims to create awareness and a culture across Yorkshire and the UK where donating, recycling and reusing sports clothing becomes a common place, to help break down barriers in community participation.
The young people at the launch event were also joined by Northern Diamond superstars Beth Langston and Steere Kalis.
Beth Langston commented:
"It's a really good initiative – getting people from the local community down, maybe some that haven't been involved in cricket before if the cost of the sport has been a barrier before.

"Especially nowadays with the cost of living crisis, that might put people off if they've not got much disposable income, but here was the opportunity to come down, grab some kit for free and then hopefully that will get more people involved in playing cricket or some other sports.

"Getting young people and adults involved in sport is really important for their health, their mental health and sport offers so much more including creating a community."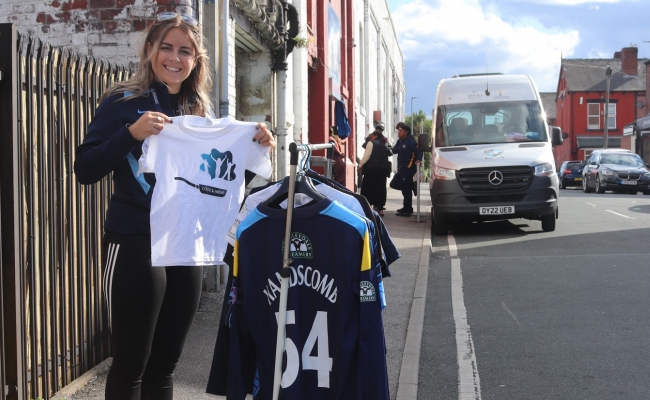 Cricket kit can cost hundreds of pounds each year and as the cost-of-living crisis continues to increase, the option of getting some cricket kit for free means that money can be spent elsewhere for families.
Kendal James, Participation Manager for YCF, and founder of the initiative, said:
"As part of the Yorkshire Cricket Foundation within Participation, our job is to try to break down barriers and one of the biggest barriers we know in cricket is in fact the equipment.

"And added on top of this, given the current climate with inflation and how expensive things are, we wanted to rally round and find as many opportunities to showcase that we can reuse, recycle and donate kit to those in need."
The Cric-Kit scheme also looks to have a major impact on helping the environment, as high plastic content can often be found in cricket equipment and garments, leading to damaging results for the environment, once old equipment is thrown away.
Following the successful launch, a new 'Cric-Kit' hub will be launched at Headingley Stadium, where spare cricket kit can be donated and reused across a number of community programmes run by YCF in Leeds.
The Foundation is also calling for cricket clubs across Yorkshire to help reduce waste, save money and breakdown barriers by joining the Cric-Kit scheme. YCF are aiming to select a handful of proactive clubs across the region who have expressed an interest in becoming a 'Cric-Kit Hub' early next year.
Kendal from YCF reiterates:
"We are asking cricket clubs to be a flagship for Cric-Kit and encourage members of the club to donate any unused recycled kit, and also create awareness locally that if people have any unused kit, they are welcoming donations that future members who join the club can access if they need to."
https://www.efltrust.com/wp-content/uploads/2022/10/20221010144222_Yorkshire-Crciket-College-students.jpg
400
650
Andrew Rudkin
https://www.efltrust.com/wp-content/uploads/2016/06/efltrustlogo.png
Andrew Rudkin
2022-10-25 12:22:40
2022-10-25 12:22:40
Young people with Yorkshire Cricket Foundation (YCF) help with vital project to improve environmental sustainability and to support accessibility within Cricket