Throughout 2021, Walsall FC Community has continued its aim to provide life-changing opportunities, by enabling over 13 young people to gain opportunities within the workplace, through the Kickstart programme.
The Kickstart programme is an initiative to help young people by giving them opportunities to get a foothold within the professional work environment. 477 young people have found employment through Kickstart at 65 EFL Club Community Organisations across the country.
Since April this year, Walsall's Kickstarters have been involved within a wide range of placements and participated in various activities. Coaches were given the opportunity to experience all of the different projects that Walsall delivers in the community, including; Holiday Camps, Match Day Activities, Mental Health, Adult Weight Management and Premier League Kicks Sessions.
Additionally, the Ground Staff placements were split between the training ground and the stadium, undertaking tasks on pitch care management. Ground Maintenance placements included a variety of roles on general upkeep tasks, such as building, painting, cleaning, and repair tasks.
Walsall FC Community Programme are set to continue to build upon its already pre-existing successful Kickstarters, as Walsall look to recruit a further 10 Kickstart positions from January 2022, including positions such as; Community Coaches, Admin, Bar staff and in Media.
Future incoming Kickstarters will hope to follow on from previous Walsall success stories such as Jake Llyod, who secured full-time employment like many Kickstarters at Walsall, in which Jake is playing his part at the club, as he joined the Ground Staff team earlier this year.
Jake spoke about his experience with his Kickstart placement at Walsall:
"I saw the role at Walsall FC and saw it as an ideal opportunity to gain experience at a Professional Football Club."

"Kickstart has been really good for me. I have learnt lots of new skills and gained experience whilst earning a wage. Ultimately, it has led to a full-time job for me. My experience has been really positive, and I would recommend that other people consider taking on a Kickstart placement."
We spoke to Adam Davy, Community Director at Walsall FC Community Programme, who highlights Walsall's incredible journey with Kickstart:
"Our initial thoughts were that Kickstart was an ideal opportunity for us to support young people in the local area."

"Kickstarters were keen to get the work experience for their CV and were keen to see what opportunities may lie in the future for them."

"The Kickstarters were all very useful to have on placement during their time with us. This was particularly prevalent as we restarted activities. We needed extra staff at coaching sessions to temperature check, police one-way systems and clean equipment on a regular basis."

"The Ground Staff also played a vital role in preparing the stadium and pitch for a return for fans to games and ensuring that the Club was match ready, once the green light was given for fans to return."
Walsall's work within the community and with the Kickstart programme has seen special recognition from Secretary of State for Work and Pensions Thérèse Coffey, who visited Walsall FC back in May earlier this year.
Thérèse Coffey had this to say:
"Kickstart is playing a vital role in helping to score better opportunities for the next generation of workers. Credit to Walsall Football Club and the EFL Trust for stepping up and giving young people an opportunity to kick off their careers and reach their goals. I encourage more employers to join Kickstart and become part of this national team effort to build back better."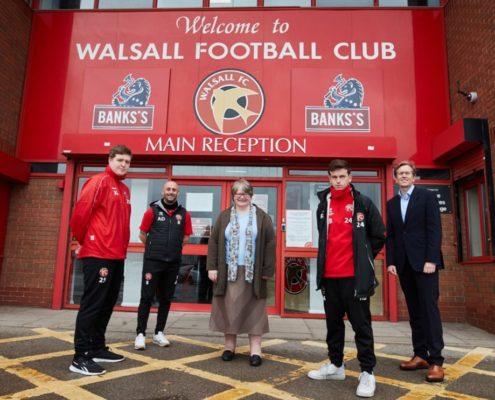 Walsall FC Community Director Adam Davy, discussed more about the highly successful Walsall Kickstart Programme:
"All Kickstarters at our club have learnt a variety of job specific skills that would be required if they wished to further their careers in the role they took for Kickstart.  They also learnt transferable life skills, important for employment, such as working in a team, time keeping, application and adaptability."

"We were privileged and fortunate to host a Secretary of State visit to highlight our use of the Scheme.  We are confident that all young people accessing the placements will have a worthwhile experience and we strive to offer as many exit route opportunities as possible."
Click here to discover more about how Jake secured full-time employment at Walsall.
Click here to find out more about how Kickstart is impacting young people's lives across the country.
https://www.efltrust.com/wp-content/uploads/2021/12/Picture1.jpg
743
1113
Sami Caglayan
https://www.efltrust.com/wp-content/uploads/2016/06/efltrustlogo.png
Sami Caglayan
2021-12-17 11:52:09
2021-12-17 11:52:09
Walsall FC Community Programme continues to provide fantastic Kickstart placements for young people seeking employment