As part of Loneliness Awareness Week, we are highlighting stories of individuals whose lives have been positively impacted by Extra Time Hubs and how our EFL Club Community Organisations have continued to provide support to a vulnerable section of society throughout the COVID-19 pandemic.
Whilst loneliness can be experienced by anyone at any stage of their life, it is often older people who find constant loneliness hardest to overcome and they lack the friendship and support we all need.
EFL Trust's Extra Time Hub sessions are delivered by 11 EFL Clubs and are designed for those aged 55 with support from National Lottery funding from Sport England.
Extra Time Hubs are designed to engage retired and semi-retired people by harnessing the power of their local football clubs and to combat both loneliness and inactivity.
Sheila's story
Sheila Davies, who was given a distressing cancer diagnosis resulting in a long and difficult treatment plan that changed her life forever, describes Shrewsbury Town's Extra Time Hub as a 'godsend' and that her world began to open up when she joined the session.
Sheila worked as an Assistant Manager at one of Shrewsbury's local goldsmiths, until she had an accident resulting in a broken ankle. It was this injury that lead doctors to discover and give her the distressing cancer diagnosis and changed her life forever. During this time, Sheila understandably stopped working but began to present symptoms of a hereditary condition called Muscular Dystrophy.
In 2010 the road to cancer recovery began with Sheila learning to adapt to her ongoing condition. However, the euphoria of an all clear was cut short as mobility issues started to become a barrier in all aspects of her life; the hard-work Sheila put into her recovery could not stop.
It was in 2016 that Sheila's grandson Tom mentioned the Extra Time Hubs group at Shrewsbury Town Community Trust. Following a quick coercion of her close friend Mary, both ladies attended the session for the first time. What they found was a weekly group of 40 older adults that come together for a cup of tea, indoor and outdoor activities, quizzes, games, crafts and more. Guest speakers and day trips away were a pleasant surprise and all with the support of friendly, experienced staff. In the four years since, both Sheila and Mary haven't looked back once.
Sheila describes Extra Time Hubs as a 'godsend', saying that she didn't know she was missing. Her world began to open following that first visit. Sheila took comfort in finding a place that offered her the facilities she needs to feel included and safe with regards to her mobility. The opportunity to defy her expectations of what was physically possible with her disability gave Sheila hope to continue the management of her condition with renewed vigor.
Over the last 4 years Sheila describes her favourite elements of the group as the day trips away, the opportunity to participate in physical activity and the visit of guest speakers. Being very much a social butterfly, Sheila has revelled in creating new friendships and bonds with other members of the group and often looks forward to the annual Christmas get together weeks in advance.
Taking day trips away is an Extra Time Hubs staple as the regular venue is unavailable during school holidays. It's something that members like Sheila absolutely love; knowing that she will be looked after and supported in going to interesting places. The seaside, local walks and museum are all trips that Sheila has very fond memories of, 'what could be better than taking a trip with friends, when all the hard work and planning is done for you!'
The no pressure approach to physical activities is also a key element of the group that has a huge impact on Sheila's life. She feels confident to do as much or as little as she likes during session, without fear of pressure to participate. Sheila has been able to take part in lots of activities, overcoming her own perceived barriers with guards to mobility and her walking frame.
Away from the Shrewsbury Town Extra Time Hub, Sheila and a few of the other members regularly meet for drinks, food and social afternoons. Sheila is a very popular member of both groups thanks to her fantastic sense of humour and kind nature. More than that, she has become a beacon in this group, a diligent friend, regularly reaching out to other members with phone calls and cards.
The most important difference in Sheila's life since her first visit in 2016, is the wonderful social life that has grown from joining the group, her confidence has begun to grow and her world has opened, 'a transformation has occurred'. Upon leaving her career to battle with her health, Sheila became isolated. Sheila has a fantastic family, but without the routine of work and the freedom of easy mobility she soon had a lifestyle that didn't suit her. Even the happiest, most positive person can become disillusioned. Sheila would never have described herself as lonely, only saying that she didn't get out much. The group has helped to give that structure back, she looks forward to Thursday mornings, knowing there is a cup of tea and a new friend waiting for her. 'Having something to look forward to just makes such a difference in life'
Although Muscular Dystrophy is a degenerative condition, Sheila feels safe coming to the Extra Time Hub thanks to Shrewsbury Town Community Trust's accessible venue. She knows that she can join in physical activities if she wishes, playing games of bowls, botcha, even cricket and football. Admitting that she doesn't take any exercise at home, these moments of movement are joyful for her, and of course improve so many elements of her overall wellbeing.
During conversation with Mary, Sheila's best friend explained 'It got both of us out! It's difficult to find places to get to and be part of. With regards to accessibility, the club was a big tick. We didn't realise it would be so sport related, but we were allowed to fit in regardless, doing as much or as little as we liked'
Mary went on to say: "With her disability, she was becoming shut in with nowhere to go and no one to see, with the help of the Hub, she has been able to come back to the Sheila she was. When you're shut up at home you become isolated and you lose confidence. It's renewed her sense of self and sense of purpose. It has given us both more confidence."
Sheila has said that joining the Hub has enhanced her life greatly. When asked to sum up the ways in which, she was lost for words. The most important element for her, is finding a big group of friends. Having to leave work the way she did, with the health difficulties that have shaped the next phase of her life, it means the world to her, to have found real friendships. The recurring phrase she used that is perhaps the most fitting for her experience, to use it again, is that it has been a 'godsend'.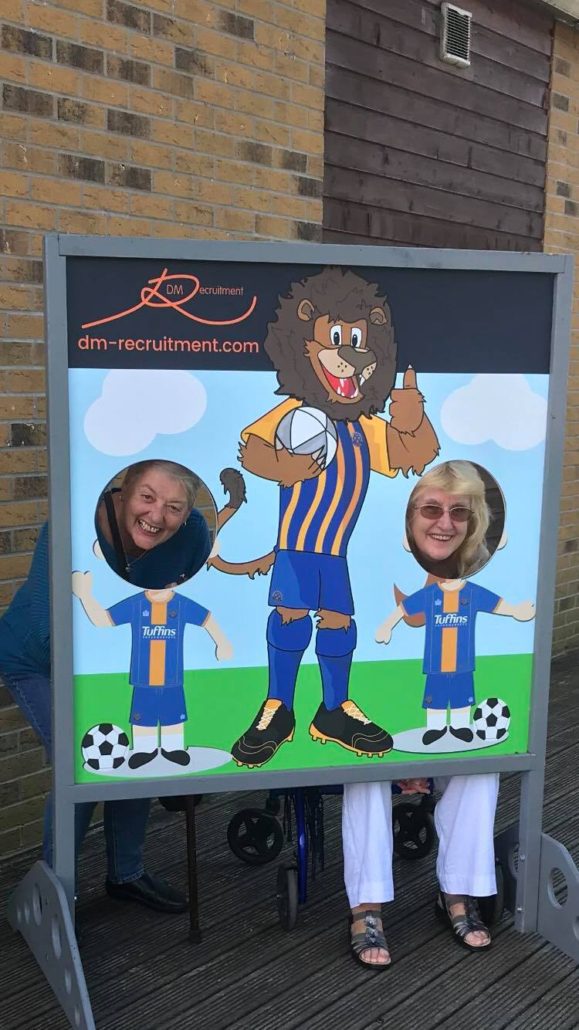 https://www.efltrust.com/wp-content/uploads/2020/06/sheila.jpg
1334
750
EFL Trust
https://www.efltrust.com/wp-content/uploads/2016/06/efltrustlogo.png
EFL Trust
2020-06-16 15:00:00
2020-06-16 13:10:50
Sheila: "Extra Time Hubs is a 'godsend' I don't know what I was missing!"