Peter Jemmett, a 61 year-old from Wycombe, has significantly improved his health through Wycombe Wanderers Sports and Education Trust's Football Fans in Training programme after suffering a heart attack whilst walking.
In April 2013, Peter was diagnosed with unstable angina after suffering a severe angina attack whilst walking to Adams Park to attend a Wycombe Wanderers match.
Following this, he had his first angioplasty and two stents at Wycombe Hospital.
Despite trying to improve things by making token changes to his diet and going on the occasional long walk, the problem was never fixed and he suffered a heart attack just three and a half years later in December 2016.
It was then, when he made the resolute decision to find the help he needed to improve his health and fitness before things could get even worse.
He said: "I'm not afraid to say, it scared me to think what the next 3.5 years could bring if I carried on the same way.

"I knew I had to take drastic action before things got worse, but I was feeling lost and uncertain how to carry on, on my own, after I had completed the cardiac rehabilitation programme at hospital.

"I saw FFIT advertised at Wycombe Wanderers and as a lifelong Chairboys fan myself being in a friendly and familiar environment that I treat as my second home seemed appealing.

"It also seemed like a natural continuation of what I had been doing at rehab, concentrating on nutrition and exercise."
FFIT uses the unique attraction between football Clubs and their fans to improve the health of older adults, encouraging them to lose weight, get fit and live a healthier, more active life.
Fans on the scheme take part in a 12-week training programme delivered by their Club Community Organisation (CCO) coaches at their team's home stadium. They are also grounded in current science of how to eat more healthily and become more active.
At the time of his heart attack, Peter was overweight with a BMI of 31.34. He knew this was something he had to change to reduce the risk of further heart problems, but was a little reluctant at first regarding the intensity of FFIT sessions so soon after the heart attack.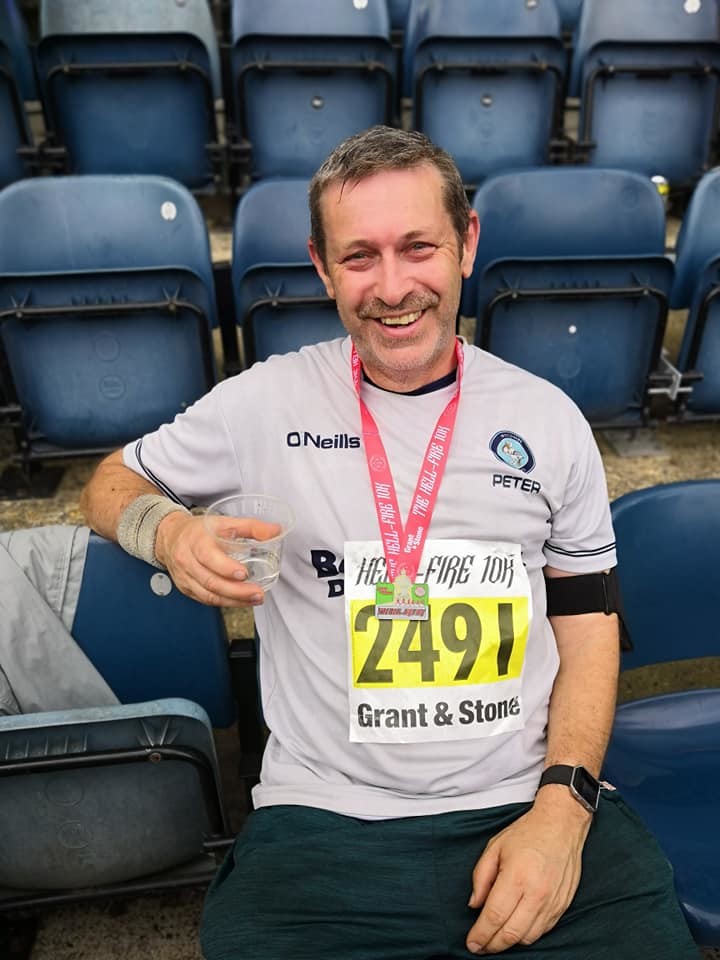 He added: "I was a bit wary that the training element of FFIT might be a little too intensive so soon after the heart attack, for example the running up the stands part. I hadn't even attempted to walk up a hill at this point.

"But the staff were brilliant and gave me reassurances that I could work at my own pace, they were so attentive to my needs and provided good ideas and suggestions on how I could go about reaching certain targets. The gradual training really helped me."
Since joining FIT FANS, Peter has lost over 2.4 stone and has ran in two 10K races, something he says he would never have even considered attempting before his heart attack.
"I could never have imagined the amount I'm running prior to my heart attack. FFIT really encouraged me to join my local ParkRun, I have lost weight and dramatically improved my fitness levels through this alongside the weekly FFIT circuit training.

"My blood pressure and heart rate has also been reduced and this in turn has led to a reduction in the dosage of my medications.

"Despite still suffering mild angina under exertion, I have received excellent reports from tests that has led to my discharge from hospital this year.

"It's also worth noting that I have also ran the 6.8 mile walk that led to my heart attack three times!"
The popular initiative has also had a significant impact on mental health. Out of the five teams who have taken part on The Blues' FFIT course, 83 percent have improved their mental health score. Peter credits the social aspect of the course.
"FFIT has given me the continued drive to carry on and keep challenging myself to go even further and motivation has been key in my recovery plan.

"It's also fantastic to train alongside like-minded supporters. Although we didn't know each other before the course, most of us have remained good friends and we meet up at matches, FFIT reunions, circuit training and even down at the local ParkRun.

"Though I knew what I wanted to achieve, I would have found motivation difficult to keep pushing onto the next level without the help from so many people at FFIT, they really deserve all the credit for keeping me on track."