EFL Trust Futsal and Education programme scholars, Morgan Pratt and Momodou Touray, are two prime examples of how the course can open the door to life changing pathways and experiences.
After approaching the end of secondary school, both boys were hesitant of what to do next in their lives. Never could they imagine that two years later, they would be playing for their home country in front of thousands of fans.
The boys were chosen to represent Wales at under-18 school boy level and played in international fixtures against England, Republic of Ireland, Northern Ireland and Scotland.
"I wish I could relive the experience," said Morgan. "From not knowing what to do with my life two years ago after finishing school, to then singing the Welsh national anthem away in Scotland in front of over a thousand people was unbelievable."

Momodou commented: "I've always dreamed of playing for the Wales team. The atmosphere whilst coming on against Northern Ireland was phenomenal, it will be a moment I will never forget. It brought me to the realisation that this is only the beginning for me."
The EFL Trust Futsal and Education programme specialises in offering a platform to young people who love sport but aren't motivated by the classroom environment, presenting a different way to learn and progress in their careers.
Unlike regular college courses, students are able to combine studying sport, gaining qualifications that will enable progression into university, and play football and futsal with regular coaching to develop their technical, tactical and physical ability.
Morgan added: "I was unsure what to do next when I finished school. Then I came across an opportunity to go on the programme. At first I was worried about leaving my comfort zone and leaving my old school and friends – but it turned out to be the best decision I ever made."

"I've always been interested in learning how the body works with nutrition, in different situations of exercise and activity," Momodou said, "I'm so glad I chose to join the programme as I now realise it has helped me to understand nutritional information as a footballer and the best food and meals appropriate to contain a healthy diet."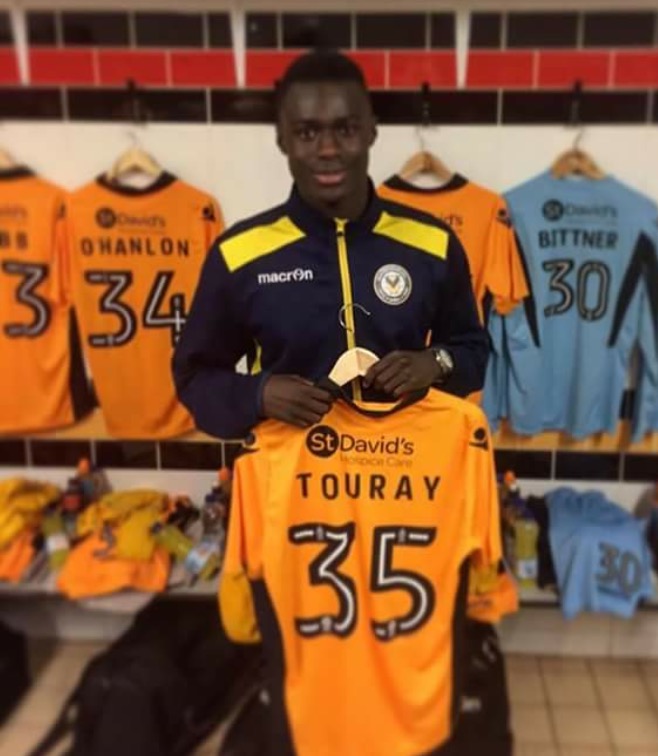 After representing Wales and going into his second year of the programme, Momodou has since signed a two year scholarship with Newport County AFC's academy team.
He has already been named five times on the substitute bench for the first team, something that Newport County's Futsal and Education Programme co-coordinator Dave Lewis is proud of.
He said: "It was fantastic to see Momodou offered a two year scholarship with the academy team and I am immensely proud to have played a part in his development.

"Both individuals [Momodou and Morgan] have showed a fantastic attitude towards their studies and consistently performed to an excellent standard during both futsal and football 11v11 games programmes.

"They both had unforgettable and outstanding experiences during their international fixtures which wouldn't have been made possible if they weren't part of the programme."
The two scholars were also keen to encourage others with an interest in studying and playing sport to sign up to the programme.
"Anyone should consider signing up to the programme as it gives you the opportunity to not only study sport and get good qualifications, but also travel to different cities within the UK and play against experienced players," Momodou said.

"You should sign up to the programme if you want to get a good education behind you," added Morgan. "It gives you the tools to go to university and you get the chance to play lots of football and futsal which will definitely improve you as a player as the coaching is second to none."
To find out more information about the EFL Trust Futsal and Education Programme visit: www.efltrust.com/futsal
https://www.efltrust.com/wp-content/uploads/2017/07/Morgan-Pratt-Momodou-Touray-e1499871811140.jpg
1976
1802
EFL Trust
https://www.efltrust.com/wp-content/uploads/2016/06/efltrustlogo.png
EFL Trust
2017-07-13 09:31:07
2017-07-13 10:58:37
FUTSAL AND EDUCATION: 'From not knowing what to do in life, to representing my country in front of thousands'