You are here:
Home
1
/
FIT FANS Programme
Eating well, moving more and being socially connected can help us to lead a healthier lifestyle.
FIT FANS is a free programme for adults who are looking to lose weight and lead a more active life.
During the 13 weeks, with the support of coaches and your fellow fans, you will learn how to make better choices to make long term improvements to your lifestyle and health. You will improve knowledge around healthy eating and take part in activity sessions tailored to suit you.
FIT FANS is unique. You'll get money can't buy access behind the scenes of an EFL football club and stadium.
Week 0
Measuring and goal setting
Before the programme starts, you will be invited to meet the coaches, take some baseline health measures and get some help to set your own realistic goals and targets.
Week 1
Getting started
This week will teach you how to manage your lifestyle to make it easier to manage your weight. You'll look at the factors which affect our eating and activity, calorie intake and an introduction to step counts.
Week 2
What are we eating?
This week you'll learn how to make healthier food choices, be introduced to SMART goals and start to gradually increase your activity level.
Week 3 –
Making changes
In week 3, you'll create your own healthy eating plan, learn about the principles of fitness, and discuss with the other members of the group how you can help each other to reach your goals.
Week 4
Physical activity
This week will focus on physical activity. You'll understand the importance of moving more, overcoming barriers and how you can be more active in your own day to day life.
Week 5
Thinking about drinking
Week 5 looks at alcohol intake, its effect on weight gain, and how to plan your weekly units. You'll also take part in an aerobic based activity session.
Week 6
Halfway down
This week explores the stages of change and how we make lifestyle changes last in the long term. You'll also get to review your progress, check your own health measures, and experience aerobic/strength training.
Week 7
Reflection – how are we doing?
Week 7 aims to reflect on how things are going and reset goals.
Week 8
What to look out for?
This week, you'll explore and understand food labelling and the importance of eating breakfast and regular meals.
Week 9
Practical stuff
This week, we will look at how to make healthier food choices when eating out or ordering takeaways.
Week 10
Myths and moods
Week 10 looks at common ideas about healthy eating and how to effectively deal with setbacks to keep on track
Week 11
Making progress
This week, you'll start planning steps to continue at the end of the programme and review your energy balance. You'll also be introduced to where you can continue to exercise in your local community.
Week 12
Looking forward
Week 12 reviews your progress and achievements. You'll create a longer term plan to continue your weight loss journey and also be signposted to other opportunities.
To join FIT FANS at your local club you should be:
Aged 35-65 years

Have a BMI of 28+

Have a waist measurement of 38 inches (males) / 31 inches (females).
Use the map to find a FIT FANS programme near you
For further information on FIT FANS please complete the form below, selecting your chosen club from the drop down menu
Your information will be sent to a member of staff from your chosen club who will call or email information about FIT FANS. You are not committing to joining FIT FANS just to receiving further information. Your data will not be used for any other information without you consent. Please see our Privacy Policy for more details on how we manage your data
'FIT FANS is the operating name in England and Wales for Football Fans in Training, which was created in a Scotland by the University of Glasgow and the Scottish Professional Football League Trust'.
The development and optimisation of the Football Fans in training programme was undertaken by a research team led by Glasgow University in partnership with SPFL Trust. We gratefully acknowledge some source material from the Nutrition and Dietetic Department, NHS Forth Valley and Men's Health Clinic, Camerlon, Falkirk. The programme development is described in Gray et al (2013), the results of the programme evaluation are reported in Wyke et al (2015) and Hunt et al (2014).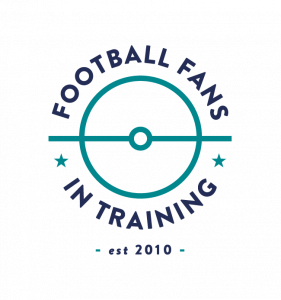 FIT FANS is supported by: