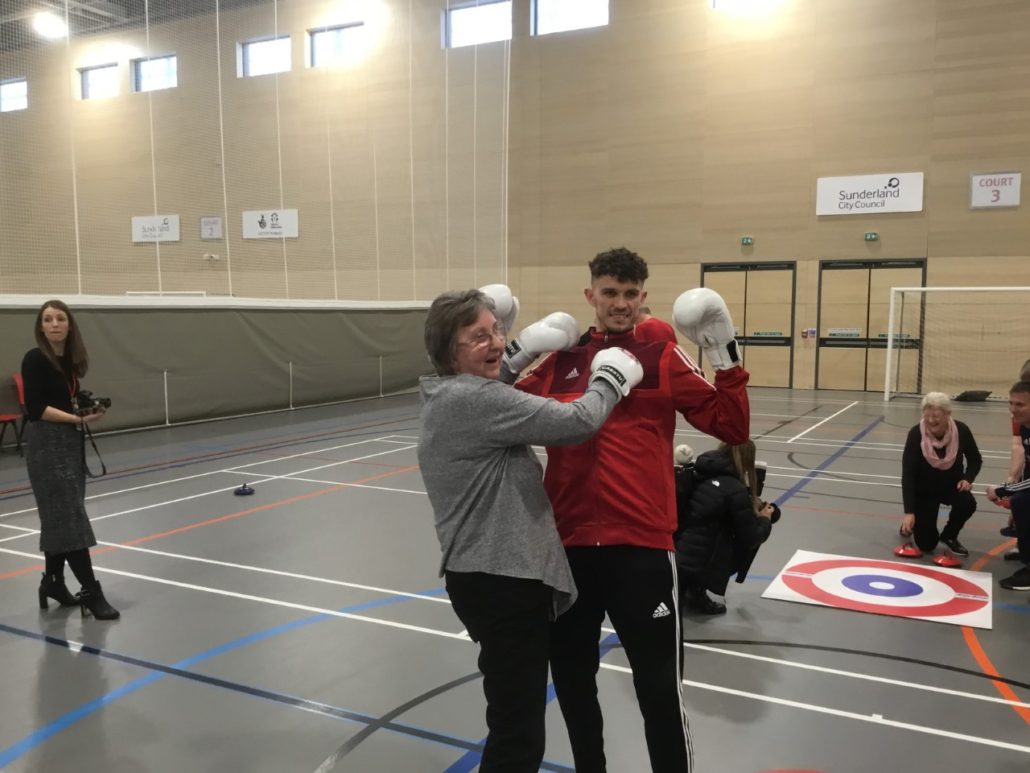 "It's very inclusive we have one member who uses a mobility scooter, which didn't stop him being a goalie. With two of us in goal defending shots, we had a great time!"
As part of Loneliness Awareness Week, we are celebrating the one year anniversary of Extra Time Hubs and highlighting stories of individuals whose lives have been positively impacted from the project. The Hubs have been made possible with thanks to the support of Sport England's Active Ageing fund from the National Lottery.
A key part of the Extra Time Hubs is that members of the Hub set their own agenda they decide what they want to do and nothing is off limits from bowls to bungee jumps, playing cards to playing ukulele. Crucial to making this happen is the role of 'motivator.' These are members of the hub that take a lead role in the organisation or coordination of a particular activity.
Mary is a motivator at Sunderland AFC's Extra Time Hub. She talks about her experience:
"I found out about the Extra Time Hub in The Echo and at the Senior Supporters meeting. As an avid Sunderland supporter, I thought I'd go along to the Beacon and see what it was like – I'm so glad I did!  
"Straight away it was different from other activities as we were asked what we wanted to do. From the start they were aware of people's varying needs and abilities and endeavors to ensure we all are catered for in a supportive way.
"It's very inclusive – we have one member who uses a mobility scooter, which didn't stop him being a goalie. With two of us in goal defending shots we had a great time!
"One of the biggest things I've got out of being in the group is meeting new people, trying different activities, enjoying various sporting activities and most of all having a laugh and a bit of fun.
"Former Black Cats players Kevin Ball and Gary Bennett came to talk to us, which was interesting. Gary even took time to come to one of our cookery demos. I was really impressed that he went round and talked to everyone. Jimmy's Ministry of Food demonstrations are always fun, well thought out and encourages us to be healthy. You're never too old to learn! Though I've still not quite conquered the modern oven yet – the Aga at home, which is older than me, is always on!
"It's great having a variety of activities in the sports hall and everybody just mucks in. We encourage each other to have a go and love having a kick around. Our first hour is have a drink and a chat and then recently we do seated exercises which, I have to admit, some of us thought might be a bit easy but we soon changed our minds!
"We've had various quizzes, played bingo and are planning a games day when we can't have access to a sports hall. We did find the ukulele challenging but the teacher was so patient a really lovely man. Think of Eric Morecambe playing all the right notes just not necessarily in the right order! Most of us knew where our fingers needed to be it was just getting them there in time that was the problem! We certainly laughed a lot.
"Pickle ball was another new activity which was very enjoyable though we preferred just playing without rules! It's not that we're rebels we just want to keep hitting the ball back, whether it's not where it should be or not doesn't really matter. It's the same with table tennis which most people enjoy. We don't bother scoring just keep returning the ball sometimes from the floor!
"I was lucky enough to spot boxing pads and gloves in store cupboard and now they're out every week, which I thoroughly enjoy.
"We are still getting new members, one from walking football for cancer patients, two new members heard from somebody at their knit and natter group and a couple from another at The Senior Supporters. Whenever anybody new appears everybody makes them welcome. If anyone misses a week, staff show concern and ask if any one knows why before following up.
"However the thing that springs to mind when thinking of any activity is the laughter and fun we always have. The group continues to evolve and I'm sure we'll have other new activities in the future. Everybody's is listened to and their opinion is valued.
"I thoroughly recommend it and it's such a bonus to be linked with Sunderland A.F.C."
https://www.efltrust.com/wp-content/uploads/2020/06/Mary-Eggleston-Tom-Flanagan.jpg
960
1280
EFL Trust
https://www.efltrust.com/wp-content/uploads/2016/06/efltrustlogo.png
EFL Trust
2020-06-19 10:00:00
2020-06-18 16:23:41
Mary is 'Mrs Motivator' at Sunderland's Extra Time Hubs