The EFL Trust is soon to be celebrating 10 years of delivering NCS (National Citizen Service). Since the first pilots were delivered in the summer of 2011 with only a handful of Delivery Partners involved including Community Organisations at Barnsley FC and Sheffield Wednesday, 600,000 young people have taken part in NCS gaining priceless life experience and completing over 15 million hours of community action raising awareness of mental health and homelessness, tackling issues such as the environment and loneliness and redeveloping local spaces for the community to enjoy.
In a recent impact study conducted by NCS Trust the outcomes of the programme showed that:
70% of participants felt more confident about getting a job in the future
For every £1 spent, NCS gave back £3.49 of benefits to society
78% of participants felt more positive about people from different backgrounds to themselves after attending NCS (2018 summer programme)
23% of young people who participated in NCS during 2019 were on Free School Meals. This compares to 14% of the comparable 16-17 year old population
Almost two in three NCS participants say they are more likely to help out in their local area after coming on NCS.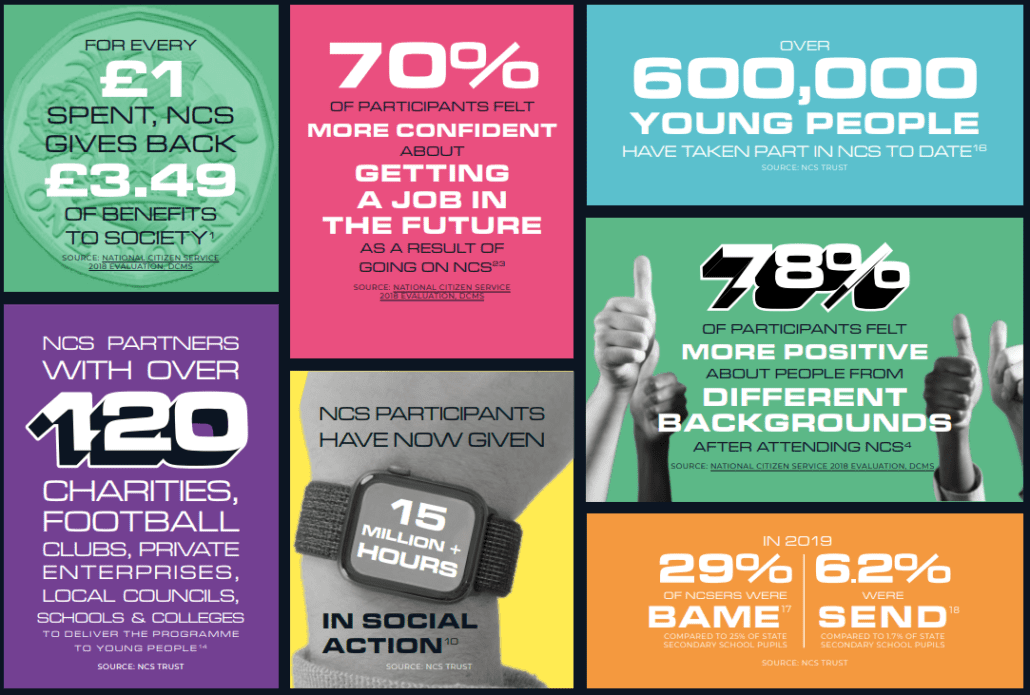 We know the impact of the NCS programme has been significant, and in some cases, life changing for young people and their communities.
But the wider impact of NCS is also highly significant….
The programme has created job opportunities, upskilled our network of Club Community Organisations and allowed the EFL Trust to tackle other societal issues such as hate crime and social cohesion.
NCS has created local jobs for local people…
NCS has created jobs locally for people who have a deep understanding of both the area, the people living within it and the societal issues that they face. This summer 2021, the NCS programme alone will create in the region of 900 seasonal roles across the EFL Trust network, with the majority of these positions going to young people aged 18-24.
NCS Graduates of the programme show extreme loyalty to the principles they have learned and will often come back to the programme to volunteer or work, thus creating the next generation of youth workers. In fact, almost two in three NCS participants (in 2018) said that they are more likely to help out in their local area after coming on NCS.
A fantastic example of this is Leonie Hudson, NCS Graduate in 2014 and now full-time employee at Reds in the Community (Barnsley FC). By her own admission, before NCS, Leonie felt withdrawn, unmotivated, was unsure what to do after school and desperate to get out of Barnsley. After doing NCS, Leonie felt reconnected with her local community and was desperate to give back to NCS by volunteering on the programme. Leonie's enthusiasm for NCS led her to be a key member of the EFL Trust's Regional Youth Board and she was also key note speaker at EFL Trust's NCS Conference.
Leonie believes NCS and the opportunities she has had since doing NCS have had a big part to play in her successful application to go to University in Leeds, admitting that her personal statement was almost entirely made up of her experiences through the programme.
"Not only has NCS given me five years of memories and experiences I'll never forget, but I completely believe it got me into my dream university."
NCS creates Community Partnerships...
NCS has also seen the development of national, regional and local partnerships across the country, some of which didn't exist before. Our Delivery Partners have been able to strengthen their links and embed themselves in local schools beyond mainstream including special educational needs and independent schools.
The EFL Trust has been able to build a number of key partners such as those with First Group Bus Company and Northern Rail, which has allowed us to offer an even more inclusive programme as young people can now travel for free when doing NCS in Yorkshire and the Humber.
Initially piloted in Yorkshire and the Humber, these partnerships have now spread to other areas of the country, giving more young people the opportunity to do NCS. These opportunities are also now being included in other Youth Programmes delivered by the EFL Trust.
Our partnership with UK Parliament has not only given young people a wider knowledge of UK politics but it has also has opened doors for the EFL Trust to engage with MPs across the country and in doing so making them aware of the wider work done by the CCO network.
NCS has promoted growth…
The EFL Trust, supported by NCS Trust funding and funding from a variety of other organisations, has grown from an organisation of only 10 in 2008 to over 60 in 2021. Many EFL Trust team members who began their journey with the EFL Trust working on the NCS programme have now gone on to play significant roles within the wider organisation and bringing with them a flair for change and a firm belief in the power of young people in our communities.
Claire Streeter joined EFL Trust in 2019 as an NCS Performance Managing Partner in Yorkshire & the Humber. Claire has been involved in NCS for 8 years starting as a volunteer in 2013 with MFC Foundation's (Middlesbrough Football Club) summer NCS programme. As a result of Claire's volunteering and enthusiasm Claire was appointed as Project Worker with MFC Foundation, leading her to become their Social Inclusion Manager supporting over 500 young people through the NCS programme in Middlesbrough. Now working within the EFL Trust, Claire is using her wealth of experience to support other NCS Delivery Partner to offer young people an unforgettable experience on NCS. Claire is also a key member of the EFL Trust Staff Advisory Forum and has assisted in shaping EFL Trust's new equality, diversity and inclusion approach.
NCS Tackles Key Societal Issues…
The work done throughout our network for NCS assisted us to secure some regional Government funding for the MHCLG (Ministry of Housing, Communities and Local Government) Faith, Race and Hate Crime project, aimed at bringing communities together and encouraging understanding and cohesion. The programme, named 'Communities United' aims to increase community cohesion by bringing people together to increase understanding of the local community and cultural differences and similarities. This programme has since engaged with 73 families across the North West increasing positive attitudinal change in social cohesion (16% increase), social trust (11% increase) and social capital (25% increase). The families that participated were from different ethnic backgrounds, sharing different beliefs and they all came together to successfully deliver a social action project in their community.
Overall, the development of and improvement of infrastructure both within our CCOs and within their teams has undoubtedly been significantly improved by the decade of NCS within our network. The requirements in terms of governance structure and staff training to ensure that teams are perfectly placed to deliver on the programme have led to significant developments in staffing particularly across the network and also within the EFL Trust.
With such strong teams, the resultant negotiating power of the organisation to ensure funding filters to EFL communities most in need has been a powerful model and given that over 10 million people live within a 10-mile radius of an EFL Club – many in deprived areas with over 70% of individuals claiming Universal Credit – the impact is significant.
The impact of the coronavirus pandemic has been particularly significant for our nation's young people and as we emerge from the pandemic, the current Government review of youth services is both well timed and vital.
As we celebrate ten years involvement with NCS, we look to the future with optimism, knowing that our learnings and organisational improvements over the past decade place us in the strongest position possible to support the young people of our country as we emerge from the pandemic and for them, in turn, to support their local communities.
Dominik Stingas-Paczko, Head of NCS
https://www.efltrust.com/wp-content/uploads/2021/06/EFLT_15-Strategy-Square-Community27.jpg
800
800
Andrew Rudkin
https://www.efltrust.com/wp-content/uploads/2016/06/efltrustlogo.png
Andrew Rudkin
2021-06-04 12:42:26
2021-06-04 12:42:26
Dominik Stingas-Paczko: Celebrating 10 years of NCS and its wider impact