How Port Vale have helped their community through the COVID-19 pandemic.
During the COVID-19 crisis, Port Vale FC and their Foundation have delivered over 85,000 meals to vulnerable people, made over 4,000 phone calls to those who might need help, delivered 4,500 activity packs and 2,367 hygiene packs. The Club opened the kitchen at Vale Park and the stadium has been a key community hub at the heart of the response to the pandemic.
The numbers are extraordinary, as is the effort of the Club and its Foundation, however Tom Sherratt, the Foundation's Head of Scheme, explains focus is on the individuals and families behind those statistics. He says: "Behind every door is a story. You just don't know the struggles that are going on in so many households.
"Our volunteers would arrive at a house that would look reasonably well off, maybe a nice car in drive, a well-tended garden. You're tempted to ask yourself 'is support really needed here?' However, behind the doors there's a struggle we can't see, maybe a single parent with children that needs shielding or elderly people unable to leave the house."
Port Vale have worked closely with the local authority throughout the COVID-19 Crisis and Tom explains how the number of people they supported grew: "At the beginning there were people that we could quickly identify as needing help, the local authority were already supporting them in some way.
"We also got in touch with the people who take part in our programmes to make sure they were ok and see what help they needed. We are also working with 36 schools in our area to identify and provide support to anyone that needs it."
Tom reflects on how it's not always easy to see who needs help, he says: "We pride ourselves on being part of this community, of our knowledge and understanding of it. However, our work during this crisis has brought us in touch with many people that we've never had contact with before. That is the nature of this crisis, it has created many more people that need help, people outside the usual system, that have never have needed it before and are often too proud to ask."
One parent who received help from the foundation said: "I wanted to message to thank you all so much for what you have done for me and my family. We get food parcels every week, they have been such a life saver. This has been hard for everyone but for my family it's been really hard as I have children that have been shielding from this as they both have medical needs."
In recent weeks the local authority have taken over supporting those within their system to a group that Port Vale have focused their help on. Tom explains how the community trust staff have been key to the success of their response.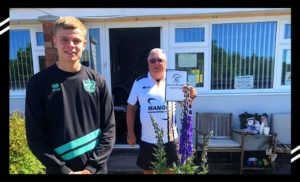 "Our staff are amazing. The lockdown meant many could not do their normal work. However, without hesitation they looked to do whatever they could to help their community. They also went above and beyond what you could expect. Those making the deliveries or taking phone calls took time to get to know the people and understand the story behind the door and then look to see how they could help even more.
"For example, we provided help to a single parent who had three children, two of which needed shielding and therefore she couldn't leave the house. However by spending a little time, primarily to provide some social support, we found out the children didn't have beds and were sleeping on the floor. It's outside what we're meant to do, but we had to do something so we bought some bunk beds for them."
Another message the Club received said: "I'd like to send a massive thank you to your food hub for helping with food parcels throughout this pandemic, they have been much appreciated and my children get excited to see what we have different each week.
"It's been a massive help to me and my children, I've even given my grandparents some of what we don't eat, equally they are forever grateful as they can't leave their house, so again I seriously can't thank you enough."
Tom concludes: "Providing over 85,000 meals and running the community hub at the stadium is a massive effort. We are grateful for the support of key partners Synectics Solutions, Summit Hospitality and Hubb Foundation.
"We also could not have provided so much food without donations from JCB, Totally Delicious, local supermarkets as well from the public. "