2020 and 2021 have obviously been particularly challenging years. The EFL Trust and our network of 72 club community organisations have adapted existing programmes and launched new support services to respond directly to the pandemic.
With the support of funding from the Department for Digital, Culture, Media & Sport, we've been able to reach and support 35,000 older people at risk of chronic loneliness.
People in the clinically vulnerable groups who were 'shielding' particularly needed our support. They were likely to become isolated and to suffer the effects of deteriorating mental wellbeing. Anxiety, stress, fear, frustration, and boredom have all been accentuated by COVID-19 related restrictions of movement, loss of social connections and activities, fear of contagion, and concern about restricted access to basic supplies and services.
Many club charities developed a telephone support offer during the initial lockdown period.  Many then experimented with remote delivery, often online but also group telephone calls and deliveries of resources to people's homes to enable them to participate in activities from home like arts and crafts packs, exercise equipment and plants and seeds to grow. This actually meant they were able to engage with people who may previously have struggled to access face-to-face support.
We know from our data that we have made a difference. People overwhelmingly reported feeling less anxious, less lonely and felt happier about life as a result of the phone calls, socially distanced visits or postal support they received.
A football club charity is not always the organisation people think of to ask for help. However, the last twelve months prove that the magnetism of football works successfully in this context and we have been particularly successful with reaching older men.
Access to IT and the confidence or know-how to use it were a barrier for some people, but have not stopped us. Several of our club charities have loaned IT equipment and provided IT clinics or support over the phone. Retaining digital provision into the future will help to ensure there is a service for those who are anxious, nervous or not able to return to face-to-face activities.
Our next challenge is to emerge from the pandemic by helping clients to move from dependency on individual phone calls and visits to taking part in group sessions once they feel comfortable (whether they be online or face to face).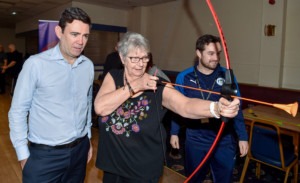 Our Extra Time Hubs are a key part of our ambition, an expanding national movement in which we bring people together in their retirement years to socialise, do things they enjoy and feel better connected. The effects of being physically and socially active can be profound.
We warmly welcome last week's publication of Emerging Together: the Tackling Loneliness Network Action Plan. We have been delighted to be part of the government's plan to tackle loneliness during COVID-19, working together with over 80 organisations from across sectors.
The plan, published on 8th May, sets out the actions that members of the Network and government are taking forward to support a connected recovery from Covid-19. Key actions include:
Bringing together funders interested in social connection to share learning and look for opportunities to align and join up funding.
Creating volunteering opportunities that build connection, particularly for people experiencing loneliness.
Exploring a range of opportunities to tackle digital exclusion.
We have big plans for the role we can play in the lives of older people and we intend to take the lessons we have learned during the pandemic to create a brighter future beyond it.
Adrian Bradley
Head of Health and Wellbeing
https://www.efltrust.com/wp-content/uploads/2020/01/3-1-e1580991886127.jpg
700
700
EFL Trust
https://www.efltrust.com/wp-content/uploads/2016/06/efltrustlogo.png
EFL Trust
2021-05-14 15:36:03
2021-05-14 16:07:46
Adrian Bradley: Tackling COVID-19 related Loneliness