So what do you do when a pandemic comes along and your flagship service for older people, who have been advised to stay at home and shield, involves encouraging large numbers of them to congregate in a room each week? Well, you innovate and improvise. Above all, you stay in touch and help people to stay connected.
Our Extra Time Hubs are pilots of our concept for how our football club charities reach and support people in their retirement years. They are places where members come together weekly to socialise, do things they enjoy, feel better connected and move towards healthy and positive lifestyle habits.
The weekly gathering is only one aspect of the Extra Time Hub which are Funded by the National Lottery and Sport England. Think of it as a wheel with the gathering at the centre and a wide range of activity groups as the spokes. Members decide what they like to do and are helped to set up activity groups. These could be walking, table tennis, singing, crafts or keep fit groups. The choice is theirs. We do not dictate. Nothing is off the agenda.
Evidence from previous infectious outbreaks and pandemics had demonstrated the mental health and psychological effects of social isolation. Anxiety, stress, fear, frustration, and boredom have all duly been accentuated by COVID-19 related restriction of movement, loss of social connections and activities, fear of contagion, and concern about restricted access to basic supplies and services. Our Extra Time Hubs have never been more important.
For Lynn in Greenwich, Lee in Derby, Avril in Wigan, David in Lincoln and many other members across the country, the sense of community and togetherness of the Hub has seen them through tough times. Members tell us they feel valued, supported, have a purpose and have something to look forward to.
We have had to redefine "come together" and our staff and volunteers have telephoned, WhatsApped, Zoomed and written to more people than before COVID-19. We have leant tablets and created online cookery lessons, craft sessions, quizzes and exercise classes. Our eleven Hub charities in Bolton, Burton upon Trent, Charlton, Crawley, Derby, Lincoln, Northampton, Plymouth, Shrewsbury, Sunderland and Wigan have been a "lifeline" for many.
Our experiences over the past 15 months have led us to reflect and to add even more flexibility to our model. The Hubs will not be limited to who can join us in person. Members can take part from their own homes or from residential care settings. Realising and embracing that means we can aspire to our Extra Time communities growing exponentially. We are no longer constrained by room sizes and transport links.
Extra Time Hubs are about people helping each other. They are about building a social network, a community, of members who have one thing in common – the desire to connect. They are places of sharing. They are places of kindness. They are places of fun. We were asked at the start of our Extra Time Hubs journey what the signs of success would be. Beyond membership numbers, survey results and health outcomes, our answer was laughter.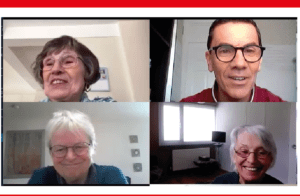 Still hearing laughter, in the midst of all that we have gone through, is our greatest achievement.
So we approach the future, and life beyond the pandemic, with renewed optimism and ambition. We want to have 72,000 members at our 72 charities in a decade. Who is to say we won't?
https://www.efltrust.com/wp-content/uploads/2020/01/3-1-e1580991886127.jpg
700
700
EFL Trust
https://www.efltrust.com/wp-content/uploads/2016/06/efltrustlogo.png
EFL Trust
2021-06-18 12:05:34
2021-06-18 14:25:30
Adrian Bradley: How Extra Time Hubs are adding life to years.