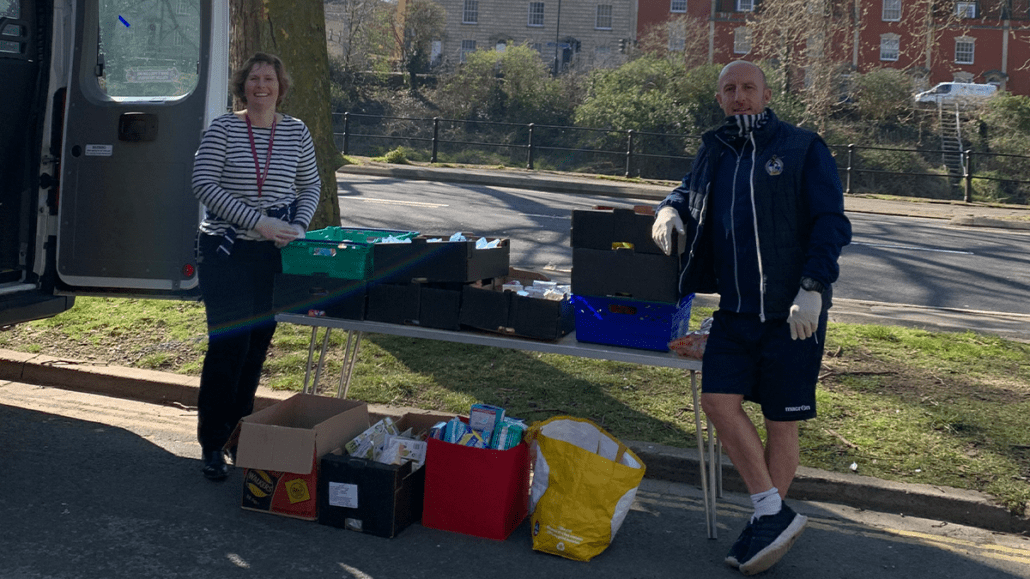 There is no surprise that Bristol Rovers Community Trust was handed the title 'Bristol Life Award Winner' back in 2018, due to its fantastic work in the community. Since that award, they have gone from strength to strength over the years, and have once again made it their duty to go that extra mile.
No-one could have predicted the effect that the coronavirus would have had on the world in the first place, but when times are hard everyone pulls together and Chief Executive of the Bristol Rovers Community Trust, Adam Tutton, has one simple message: 'this is more than football'.
"I am a born and bred Bristolian; this means a lot and it is in instances like this where people need to step up and be counted," he said.
"I am lucky enough to work with a lot of people who are like that, and what I think this is showing is that Community Trusts are more than just football. These are the times where Community Trusts need to stand up and be counted.
"In terms of the stuff ourselves and the club are doing, we have suggested that we have a look at season ticket holders that are 70 and above, as well as our extra-time club that is open to over 60s and what we are doing for all of those, we are making up food parcels which will have essentials in, and everyone will get a Rovers scarf as well, which will hopefully give them a bit of a smile.
"The Community Trust will deliver those to the people's front doors in the coming weeks; I am a community man at heart, and this means more to me than the football does if I am being honest. One of the schools we have been helping out is about 500 meters away from Bristol City's Ashton Gate, so it makes absolutely no difference."
As well as setting out an action plan for the older supporters of the football club, the Community Trust has also been helping the younger generation of its community, bagging up dinners for those who are eligible for free ones when they are at school, and with that they have also been delivering resources that will help the children while they are being home-schooled.
"We have had a lot of schools contact us to help them distribute free school meals; the first school we went to had 170 students who had free school meals. The school had all of this food and they needed to get it out, so we helped bag them up and take them out to the students," he added.
"We've been doing a lot of delivering resources such as pens, pencils, drawing papers; literally anything that we could fit into the back of the minibus. It's like a school away from school, really, so that has been one of the main focuses for us at the moment."
Conversations are still ongoing between the Trust and Bristol City Council, who Adam contacted towards the start of last week to offer out their services, and he is keen to help in whatever way he can to those organisations that need it.
"We have quite close links with the Bristol City Council in terms of the Community Trust, so I contacted them and basically offered our services out to them in any capacity that was needed, really. I was trying to put us at the forefront of a city-wide approach to what is going on," he said.
"From that, we got a phone call from the Director of People Services from the Council and they linked us up with a few charities in the first instance. We went heavy on social media saying that we were out to help, on the back of that.
"So we are still waiting on that call from the local authorities as well as the NHS who have approached us also. I said to them that we will literally help them with anything, whether it is giving nurses a lift to and from the hospital; literally anything that we can do, we will."

https://www.efltrust.com/wp-content/uploads/2020/03/1.png
675
1200
EFL Trust
https://www.efltrust.com/wp-content/uploads/2016/06/efltrustlogo.png
EFL Trust
2020-03-31 12:41:24
2020-03-31 12:43:21
Bristol Rovers set football aside for the community